International Pay-to-Play Voiceover Websites – The Ultimate List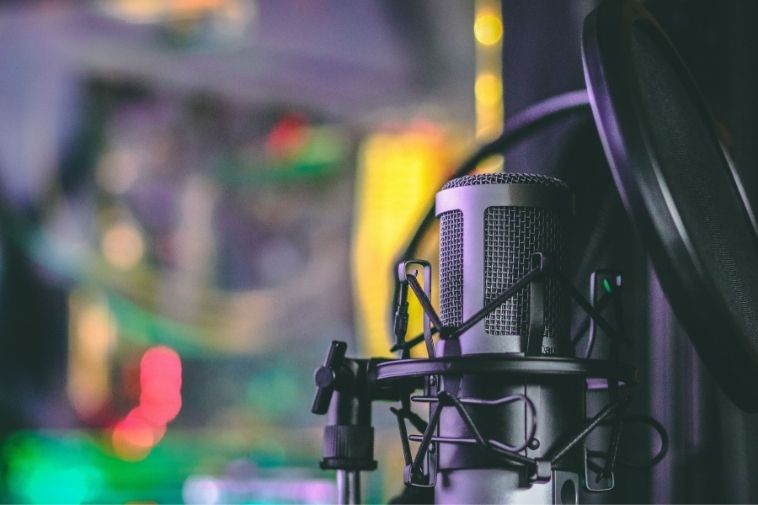 Whether you are a voiceover artist or a company looking for a voiceover for your video, you will find the following pay-to-play voiceover websites list very useful.
Having to search for a voice talent can rather be a challenging task and time consuming if you are new to this type of activity.
Similarly, if you just decided to launch yourself as a voice artist, you might not know where to start from. The pay-to-play voiceover websites can be such a good starting point in both situations.
The following pay-to-play voiceover websites list has no particular order of preference, ranking or fees.
Contents
Global Reach Pay-to-play Voiceover Websites​
I find this website quite handy for myself because it has a global reach and therefore, there are voiceover jobs available in multiple languages.
As a native Romanian Voiceover and International English Voice Talent, I prefer pay-to-play voiceover websites which target an international audience.
Based on the information written on Bodalgo, their voiceover talents are native speakers in more than 80 languages.
I personally managed to get a job on this website without paying for their premium subscription. However, if you prefer to pay, see below their prices.

For companies, it seems that it is totally free of charge to post a voiceover job. So, if you need a voice artist I would definitely encourage you to find one on Bodalgo.
This pay-to-play website offers a 30-day free trial for voice talents. So, if you would like to try it for free first and then decide what to do, you have now the opportunity.
Nevertheless, I would not recommend you this website if you mainly do voiceovers in another language than English.
One of the cons for bilingual voiceovers is that although this is an international website and supposedly it would have castings in many languages, there are not that many though. For instance, I have only been sent English voiceover castings and none in Romanian.
If you do a basic search for jobs in a few other countries you will find none other than the USA and the UK.
To post a voiceover job is free of charge and you can do it here.
In order to get your profile up as a voiceover artist on this international pay-to-play voiceover website, you will need to pass a studio-quality test.
You will be sent a text in your native language which you will have to record without adding any effects (dry sample) and you will have about 5 hours to upload the file from the moment you accept the 'challenge'.
It doesn't seem that they have any voiceover memberships you have to pay for.
One of the advantages of using Voice Bunny as a company is that you will have an exact price for your project by just typing the length of your script in words.
Fiverr is a low budget pay-to-play website, therefore as a voiceover, you need to be aware of that before creating an account with them. Plus, you will be charged an extra fee by Fiverr and PayPal for each transaction or withdrawal.
As it is expected, Fiverr has attracted many voiceovers who do not actually have high standard equipment. As a consequence, if you are searching for a voiceover artist, I would recommend you to ask them if they offer a free dry sample in order to verify the quality of the recording.
If you wish to have a free voiceover sample for your project send me an email and I will be more than happy to do it for you.
Voices.com is one of the largest online marketplaces of voice talents; 200.000 voice actors are registered on this website.
Companies can choose between 100+ languages, accents and dialects and can create an account for free, posting unlimited jobs.
As a voiceover, you can either choose to have a free account but you will only be able to audition by private invitation or you can pay for the premium subscription. See below the price and the benefits.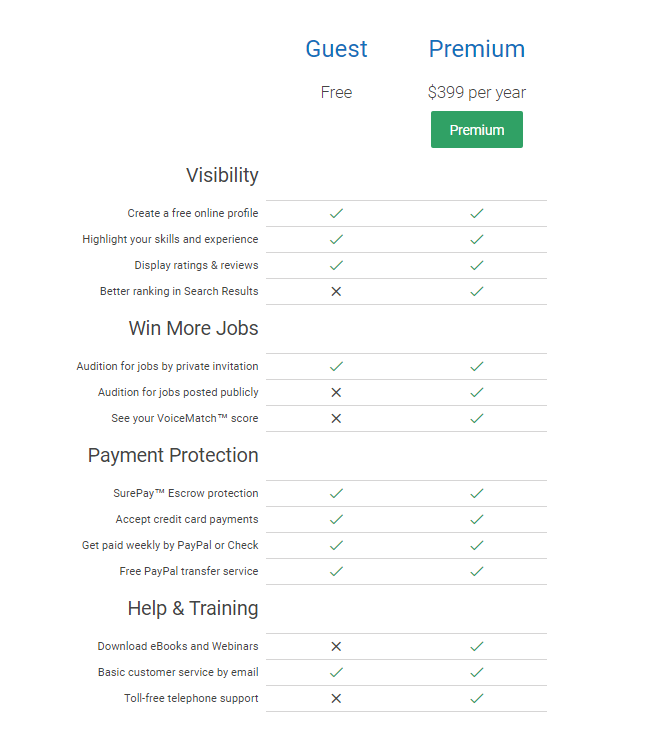 Voices123 is the last one in our pay-to-play voiceover websites list.
Voices123 was the first online marketplace for voiceovers in 2003 when it was created.
There are 3 membership options available for voice talents. The standard subscription is free of charge and gives limited benefits.
The premium subscription costs $395 a year while the platinum one is much more expensive – $1,500 per quarter.
Are you looking for a voiceover artist? You can sign up on Voices123 here.