How to Create Animated Videos That Instantly Wow the Viewers?
Animation never fails to charm people, whether it's 2D animation or even a simple whiteboard explainer video. While it is entertaining, it properly conveys the message to the viewers in a fun & creative way. The visually compelling stories are more impactful on the audience than a usual live-action video. Animated videos are easy to retain and more memorable.
This versatility is what makes animation flexible and an excellent marketing tool.
Considering all these advantages, you may also want to create your own animated video. But producing a good animated video requires a lot of time, effort, resources, and a few technical skills too.
Besides the above requirements, you must also know a few important tips especially if you're just starting out as a beginner.
In this article, we throw light on some important rules to follow while creating an animation.
Contents
1. Explain the concept
Just like there's a need to set the foundation before building a house. Similarly, you need to prepare & outline a concept before you start animating.
Every decision that you take during the production stage is either defined or informed by the concept of the animation. It's the core message you wish to convey to your audience through your animated video.
All the elements of the animation and every step of the production process revolves around this concept. This results in a cohesive piece.
Make sure you define only one concept for your animated video or else you would end up getting confused.
2. Write a high-quality script
The script breaks down the entire story in scenarios, location of the story, characters' aspect, and much more. In the script, you have to write the dialogues or the narration of the animation.
If you create a poor-quality script, your video will lack the depth needed to make an impression on the viewers.
Writing a script for an animated video is one of the most important parts of the entire production process, and shouldn't be ignored.
3. Storyboarding
If the concept is the foundation of your animation, then the storyboarding process defines how the entire piece will unfold.
A storyboard is a visual representation of a script where every frame of the video is illustrated.
Storyboards help define the parameters of the story within the required time and resources. It's better to always have the client approve the storyboard before you begin with the actual animation. As storyboards give the clients an idea of how the final video will look like.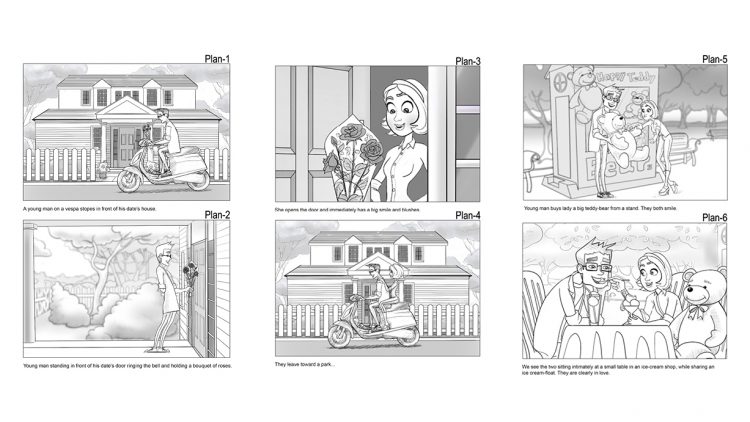 4. Create the Illustrations
Once the storyboarding is done, it's time to create the illustrations in the form of characters, objects, scenarios, etc.
Illustrations are created on a computer using software by an illustrator. It means you have to work on each element individually by leveraging layers.
One layer must correspond to the character, another to the background, and so on. Once all the layers are placed together, the frame comes out as a whole.
It is necessary to work in layers, but why? It is because while animating on software each element can be animated separately only if these elements are placed in individual layers. Otherwise, the entire animation background might shake.
5. Record the Voiceover
It's time to make your script livelier and meaningful by adding voiceover or narration to it.
In most scenarios, hiring a professional voiceover artist and getting them recorded in a studio is recommended for good audio quality.
However, you can record your own voice too or even ask someone at your workplace.
You can use your computer's microphone for recording a voiceover without a lot of background noise.
6. Create an Animatic
If you wonder, what is an animatic? In simple words, an animatic is a rough draft of a video or sequence. It consists of various storyboarded panels which are timed out with temporary music, sound effects or voices.
It's used to measure the time duration of the frame to be shown on the screen as per the voiceover/narration's script.
The purpose of the animatic is to pair each frame of the storyboard with the voiceover. Each frame is displayed in the order of how it is shown in the finished animation.
7. Adding Motion
Now is the time to bring your illustrations to life using animation software.
It's the most challenging and the most interesting part of creating animations. So, you must take it easy and shouldn't expect the best results on the first attempt.
All you have to do is import your illustrated layers to the animation software while adding movement to every element by using various tools and timeframes. However, it all depends on the software you are using for animation.
8. Adding Music & Sound Effects
Sound is an essential part of any video. As it can make or break an animation. Therefore, it is important to add the right sound effects and music to an animated video.
Also, it's important to choose the relevant track for your animation. Pick one according to your concept. Consider what works best with the message you're trying to convey.
Keeping all this in mind, choose a music clip that complements your story well.
9. Publish & Export
The final step involves exporting your animated video in the most preferred audiovisual format such as MP4, MOV. There are many other formats you can use.
Additionally, you can publish your final videos to different social media platforms or even your website, and let the world know what you've created.
Conclusion
Here you are! With the top rules to follow for creating your own animated video.
In all the above steps, you must have noticed that it takes quite a substantial amount of time and effort to produce an animation. It can be a little intimidating in the beginning, but you'll surely get the hang of it after one or two attempts. Though, you must be a little accustomed to the skills and knowledge that are needed to produce an animated video.
Your first animated video will be a huge learning experience for you. And never get discouraged by any mistakes that you make throughout the production process. As with time, you'll be able to create a stunning animation.
This article has been written by Pavnendra Bhadhuria
Pavnendra Bhadhuria is the founder and CEO of Essence Studios, India's top explainer video production company. When he is not busy running the business, he shares his knowledge and experience in the field of digital marketing through blogs. He is also an avid follower of cricket.