The Complete On Page SEO Checklist For Voice Over Websites
I think you will all agree with me when I say:
It is so DIFFICULT to get traffic to your website that will convert.
Or is it?
Well, it turns out that you can dramatically increase the traffic to your landing pages by just following this On Page SEO Checklist.
Search engine optimization has invariably been a vital component of your selling strategy.
However, typically it's not thought of as being a priority when wanting to create new landing pages.
Sure, you would like to maximize conversions, however, at the end of the day, you wish your content to be found on search engines in order to convert.
So, it is fair to say that SEO and conversions are in a direct relationship.
Here's the deal:
Take into account this On Page SEO checklist, to help you boost the SEO effectiveness of your page while not impacting the power of your pages to convert.
All in all, it's a win-win – and it's well definitely worth the time
Contents
1. Do your SERP Research
First of all, let me explain to you what is SERP.
According to Wikipedia:
Search Engine Results Pages (SERP) are the pages displayed by search engines in response to a query by a searcher.
The main component of the SERP is the listing of results that are returned by the search engine in response to a keyword query, although the pages may also contain other results such as advertisements.
In plain English, SERP is represented by the normal Google, Yahoo or Bing searches you do daily.
Now, what do you need to do at this first step?
You might know by now that successful SEO needs a proactive approach.
That's because SEO and Google algorithms change constantly, so before optimizing all the pages, check if you are doing it the right way.
If you want to learn more about how Google Search algorithms work, consult Google's page here.
First, start by researching the search engines.
This can be done by entering your keywords into Google and seeing what comes up.
The results can show you what Google thinks are the relevant findings for those individual search terms.
Check the links that come up on the first page in order to see what the content is, the tile, the URL and so on.
Every time you want to create a new page, you need to examine your competitors.
More significantly, try to find any gaps in the content that you can fill in.
If you're thinking that there's a matter concerning your keyword that hasn't been answered within the search results, then this would be an excellent chance for you to rank with the new page you will create.
2. Keyword Research On Page SEO Checklist
In the world of ever-changing SEO practices, one factor remains constant: the necessity for keywords and keyword analysis.
The good thing is that there are so many free tools out there that can be used at this stage.
Keyword Everywhere is an extremely useful tool to get suggestions for keywords together with their volume, the cost per click (useful for paid ads) and competition.

You can install the free version as a plugin for Google Chrome and Firefox.
In the same way, you can use 'Google 'Suggest' to get an idea of the keywords you might be able to use.

…or you can use the Keyword Planner, belonging to Google Ads (formerly called Adwords).
Did you know that it is free to create an account with Google Ads?
You don't even have to run a paid campaign in order to use the Keyword Planner.
However, you might need to call Google Ads to give you access to the Advanced version in order to have access to the Keyword Planner.
But keep in mind, you've got to approach keywords with completely different methods in mind. First, you'll wish to spot your primary keywords.
However, keyword analysis doesn't begin with the tools. It begins together with your target market.
Your potential clients are the ones who are going to be searching for your content, thus it's crucial to know their demographics, interests, and needs.
Once you have an understanding of your core audience, the subsequent step is to split your market into smaller sub-groups having in mind the three aspects mentioned above: needs, demographics, and interests.
You will probably ask why? Totally different individuals in your audience can explore various things, and you wish to cover all of them.
That means that your content will need to take into consideration all the potential queries that your target audience might search for as well as direct answers.
Q&A will facilitate your rank higher in voice searches.
3. Use SEO-Friendly URLs
What do I mean by that?
To begin with, your new page needs to have a short and clear URL that uses keyword phrases naturally while saying what the page is about.
A brief URL is quicker to type and read. Also, the fewer the words the more value each word receives from a search engine spider.
According to a 2016 Ahrefs study, pages with shorter URLs rank better. The research was carried out on 2 million keywords.
Source: Ahrefs
Remember that your URL is better to have the domain name plus the title of the post.
Additionally, you can include the word 'blog' between the domain and the title.
If your URL includes the date when the post was published (i.e. https://DomainName/Date/Title) it is better to remove it.
In order to do so, go to WordPress dashboard (assuming that your website is created in WordPress) and check the Settings section and then Permalinks and choose Custom Structure as it can be seen in the image below.

I would mention at this point that it is best to optimize each online page around one keyword only and use this keyword at the beginning of the URL.
Keep in mind although, don't overuse keywords. Search engines acknowledge keyword stuffing and can penalize your website for those actions.
4. Use Your Keyword In the Title Tag and Meta Description
Before writing anything, I wanted to exemplify what is the title tag and the meta description.
The title tag and the meta description are basically the title and the description of a post you see in your searches on Google (i.e. SERP).
In order to modify the title tag and the meta description, you need to install the application Yoast.
The free version of this application is just enough to help you optimize your landing pages.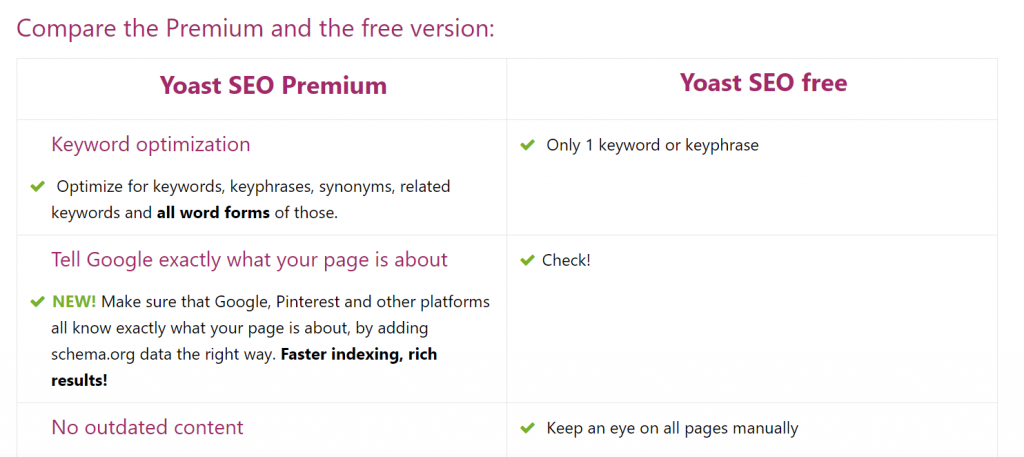 If you want to know about Yoast, have a look at this page.
Returning to my suggestive headline, you need to use your keyword in the title tag and meta description, at the beginning of it.
But if on page SEO was as easy as inserting your keyword within the title, then there would be a lot more successful SEOs.
To take your title tag optimization to another level, you need to add modifiers.
5. On Page Checklist Tip: Embed Title Tag Modifiers
Brian Dean, the founder of Backlink, explains that adding words such as 'the current year', 'best', 'review', 'guide' or 'checklist' to your title tag will dramatically improve the rankings.
Be aware of the length of your title once adding modifiers.
Search engines might not show your full title if it exceeds a particular length.
For Google, this length is between fifty-five to sixty characters.
If your title length is simply too long, don't worry!
Search engines still use your full title tag for ranking functions, whether or not it gets cut off in search results.
6. Use Your Keyword in the Intro of Your Copy and in H1, H2 or H3 Tags​
I am sure that most of the time, you'll mention the target keywords throughout the content while not even making an effort.
However, bear in mind that Google puts additional weight if the keyword is in the first hundred and fifty words of your page.
So use your keyword once here.
In the same way, you need to add the keyword to the headlines.
7. Optimize All the Images On the Page
Google is quite bad at reading images.
That is the reason you need to save your pictures with descriptive titles.
Alt tags and descriptions are supposed to explain the looks and purpose of a picture on the page.
These will appear if pictures do not load properly, thus you would like them to accurately represent the image.
They are also helping search engines crawlers by providing more data, thus the importance to overall SEO.
The image description should contain the keyword you're making an attempt to rank the page for.
How do you add the keyword to the image title attribute?
You can do this by clicking on the image, selecting the pencil icon and down at the bottom you will find the Advanced Options and underneath this is the image title attribute section.
8. Video Optimization On Page SEO Checklist
In a previous post, I have written about the Video Marketing Trends in 2019, I have given some statistics regarding the efficiency of videos.
A study has shown that 72% of businesses say that videos have improved their conversion rate.
Additionally, your page will have 50 times more chances to rank on the first page of Google.
If you want to know more of the advantages you can have by using videos on your website, check another post I have written recently.
Therefore, it is vital to optimize the videos included on your page.
You want your videos to be simply understood and indexed.
Make sure to add:
A title, same as you would do it with the page title
A description
A relevant thumbnail image
9. Add Internal and External Links
Many inexperienced bloggers make the mistake of not adding links that direct readers to other posts on their blog.
Try to add at least 2 or 3 internal links to your content.
Similarly, outbound links to authoritative websites help Google determine your page's topic.
It additionally shows Google that your page may be a hub of quality data.
If you want to find out the Domain Authority of different websites, install the MozBar plugin. It is free of charge.
Do you want to learn more about inbound and outbound links? Watch this video.
Sources
Ignite Visibility
Wikipedia
Google
Ahrefs
Backlinko
Common Places Interactive
Omnicore